Chattanooga's Dependable Foodservice Supplier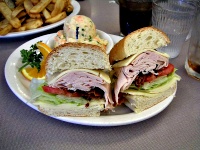 FOR IMMEDIATE RELEASE
During these trying times, Chattanooga's THS Foodservice wants to reassure our residential and commercial customers that we remain open for business as usual. Over the past sixty-three (63) years we have built a reputation for being a trusted and dependable supplier.
We proudly stock over 4000 items that are available either for delivery ($250 min) within our delivery area or pick-up at our warehouse. These include sought after items such as:
Toilet paper and paper towels by the case
Frozen chicken breasts (case of 2 - 10# bags)
Hamburger patties (10# box)
Canned vegetables and fruits
Bleach
Bottled water and so much more!
Our refrigerated and frozen foods are maintained in strict accordance with FDA temperature guidelines in our USDA inspected warehouse. Call or stop by and check us out today.
Did You Know?
We can deliver it to you
THS delivers every week to the southeast Tennessee and northern Alabama and Georgia areas. We deliver within an approximate 100 miles radius of Chattanooga.