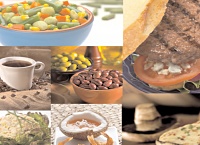 THS Foodservice is proud to partner with Legacy Foodservice Alliance in the introduction of our new "Misty River" brand to the Tennessee, Georgia, and Alabama markets. Misty River is the new and exciting "Brand for Tomorrow" with the exceptional quality you've grown to expect from THS.
The alignment of THS and Legacy provides us the ability to lead the industry with innovative ideas and high quality products under the Misty River Brand. The Legacy team consists of experienced industry veterans, offering the tools and resources that will assure their members remain competitive, while focusing on quality products and excellent service. Staying strong in today's business environment is crucial to the success of our customers and is principle in the direction of THS. It is for these reasons, we are confident in our decision to partner with Legacy Foodservice Alliance.
We will continually strive to exceed your expectations by listening, identifying, and understanding your distinctive needs, ultimately providing you with innovative products and services that will help ensure your profitability.
OUR STAFF IS COMMITTED TO OUR CUSTOMERS
WHAT WE PROMISE, WE DELIVER!

Did You Know?
We can deliver it to you
THS delivers every week to the southeast Tennessee and northern Alabama and Georgia areas. We deliver within an approximate 100 miles radius of Chattanooga.