Company History
The official state motto of Tennessee is "Agriculture and Commerce". This phrase, while adopted in 1987, captures the essence of Tennessee Hotel Supply's rich history. Purchased from the original owners in 1958, H. M. Poss built the company from a small hotel purveyor to a broadline supplier of food and non-food products to restaurants, foodservice operators, hotels, schools, churches, daycares, and other institutions.
We invite you to explore the key moments in time that have shaped THS Foodservice into the trusted foodservice supplier throughout East Tennessee, North Georgia, and North Alabama.
1958
H.M. Poss and William L. Frierson purchased Tennessee Hotel Supply, located at 105 West 11th Street, from Guy and Mack Fox in 1958. Both Poss and Frierson were serving as lieutenants in the Naval Reserve at the time of purchase. The new owners kept the Fox brothers and other existing team members on the staff following their purchase of the company.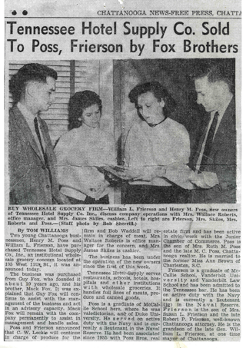 Poss bought out Frierson in 1960. Throughout the early years of his ownership, Poss established strong relationships with top vendors to ensure that Tennessee Hotel Supply was supplying quality products from top brands. This commitment to quality became well-known among hotels and restaurants in the greater Chattanooga region, helping establish Tennessee Hotel Supply as the solution for premium products with unparalleled customer service. Below are several invoices from top vendors and popular restaurants during this time period.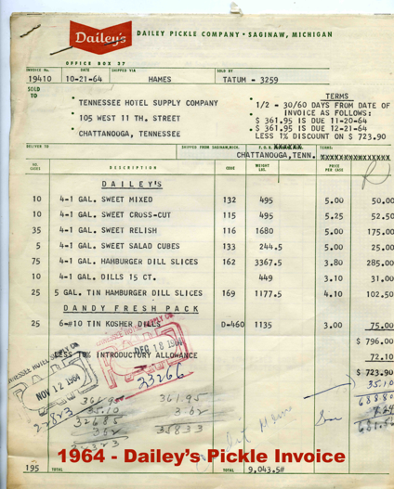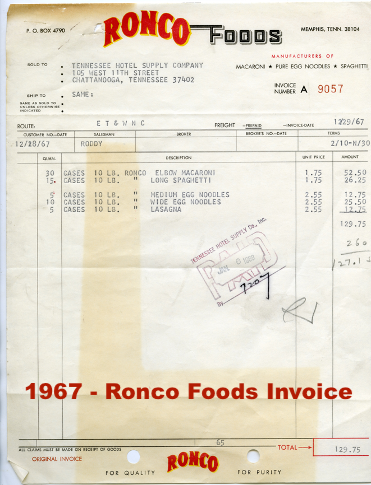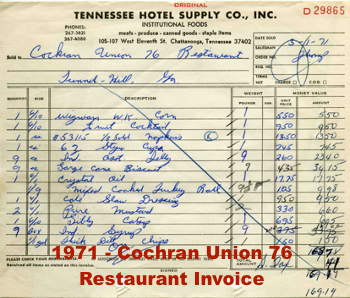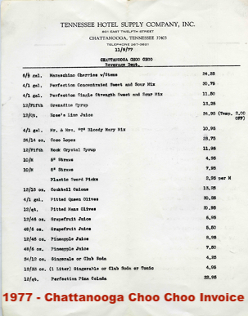 1971
In the late 1960's, Tennessee Hotel Supply transitioned to offering frozen items to their customers, including steaks, French fries, and more. However, the original warehouse on 105 West 11th Street only featured a single 12'x 12' freezer, which could not handle significant expansion into the frozen foods market. In addition to the freezer limitations, Tennessee Hotel Supply had grown to the point was more space was needed to accommodate the increase in customers and sales.
A true visionary within the foodservice industry, H.M. Poss saw the value and potential that frozen foods would soon bring to foodservice. This vision prompted a relocation to a new 27,000+ square foot warehouse on 801 E. 12th Street, where THS Foodservice continues to operate today. This facility was highlighted by two 20'x 40' freezers which offered the freezer space needed to expand into the frozen foods. This paved the way for Tennessee Hotel Supply to fully embrace the frozen food market, which sparked years of business growth and strong sales performance.
1982
In 1982, Tennessee Hotel Supply celebrated its 25th year anniversary. The Chattanooga News Free Press published a feature story on September 19, 1982 about the milestone with detailed quotes from Poss about changes in the foodservice industry, the continued prominence of local wholesalers, and how he came about purchasing the company.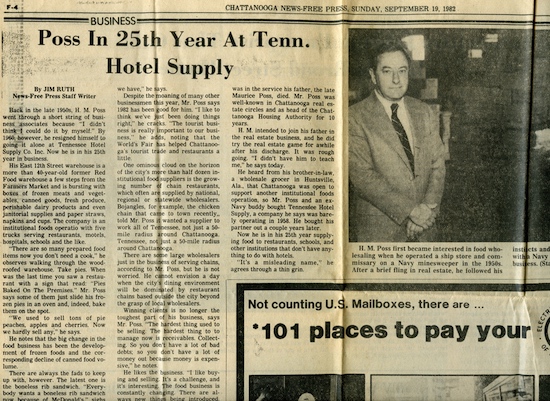 1990's
Tennessee Hotel Supply enjoyed sustained success through the 1980's by continuing to serve local institutions with top products and tremendous customer service. This growth once again demanded a facility expansion. On April 7th, 1991, H.M. Poss, and his son, Henry, purchased an adjacent building to the existing warehouse. The new building was connected to the main warehouse in 1993 and proved to be a crucial addition in fulfilling orders for new customers and accounts. The company's loading docks, featuring four loading doors, were relocated to the new building. It also brought additional refrigeration space, and an additional freezer was built in June of 1994.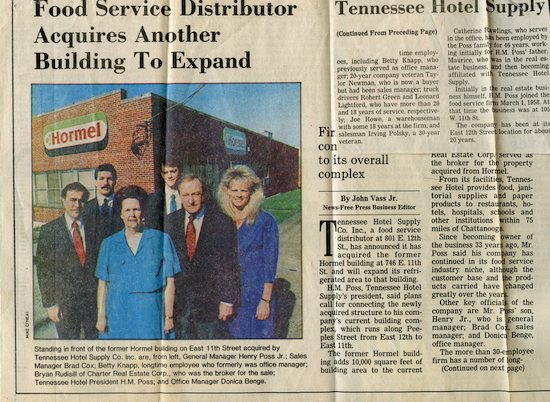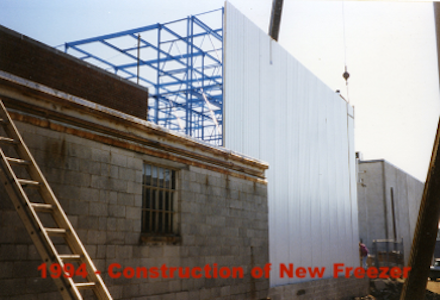 In the early 2000s, Tennessee Hotel Supply rebranded to THS Foodservice. This change was helpful in displaying that THS serviced more than hotels, but all foodservice operators.
2006
Following nearly 50 years of leadership at Tennessee Hotel Supply, H.M. Poss passed away at the age of 75 in 2006. During his time as owner, H.M. Poss guided the company from a small wholesale grocery supplier into a thriving staple of the Chattanooga region. His unwavering commitment to quality customer service remains a tenant of THS Foodservice today. Henry Poss took over control of the business and remains the owner today, continuing to practice the key fundamentals that separate THS Foodservice from large, national distributors: quality products and unparalleled customer service.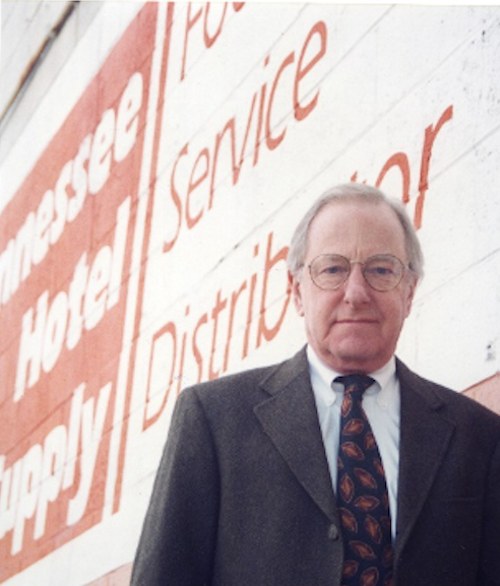 2008
THS Foodservice enjoyed its 50th anniversary in 2008. This celebration was detailed with another article in the Chattanooga Times Free Press and included quotes from Henry Poss and Betty Knapp, the controller for almost 30 years. The article highlighted the healthy state of the company, which featured 32 employees and seven trucks at the time. The anniversary served as a strong reminder of the steady growth that THS Foodservice has experienced since 1958.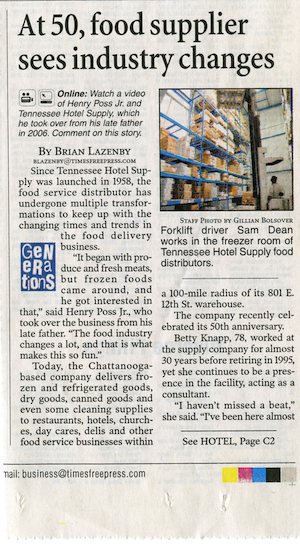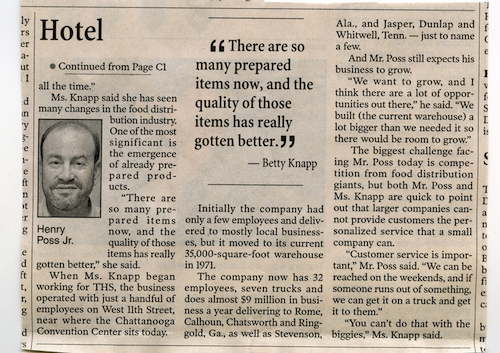 2016
In 2016, THS Foodservice invested in a fully equipped test kitchen as a new way to showcase top quality products. Stocked with top-of-the-line equipment, this test kitchen has proved to be an important asset to provide the best customer service possible. It creates the ideal setting for our team to highlight new products, suggest new menu cycles and Limited Time Offers, provide full food costing, and display equipment and smallwares. This addition has played a key role in continuing to put the needs of our customer first.
Today
Today, THS Foodservice remains an integral member of the East Tennessee, North Georgia, and North Alabama foodservice community. Our trucks continue to service hundreds of restaurants, hotels, schools, churches, daycares, and other institutions with a mix of 3,000+ frozen, refrigerated, dry, and non-food products.
Our team is excited to march ahead with our 62nd year of operations in 2020. Our history shows, through success and uncertainty, that you can rely on THS Foodservice for premium quality, competitively priced products, and unparalleled customer service.